False Flag Op: Heritage and Hokum in Rebel Banner Row
A
nd now, an important message from the Hon. Ambrose Calhoun Merriweather, former governor of South Carolina:
"My fellow Americans, as we gather to celebrate the birth of our nation, I am saddened to see how some people are trying to sow dissension and division among us, stirring up needless controversy over the Confederate battle flag that flies at the capital of our great state of South Carolina, and at some of our sister states across the South. How it pains me to see that flag cast down in the dirt as an emblem of dishonor.
This is wrong, my friends. For that flag represents heritage, not hatred. It has flown proudly at our capital since, uh, 1961, when it was first raised during the great Negro tribulation that was stirred up by that King fellow and his outside agitators. It was raised at state capitols by our brethren in Alabama in 1963 and in Georgia in 1965, in response to that same tribulation.
But in truth, the flying of our noble flag
is more ancient than that
. I remember as a boy in the 1940s, you could hardly see that beautiful banner anywhere. People didn't even think about it. Why, it was almost as if the Civil War had ended generations before, and that the South had contributed many, many of its sons to fight in two World Wars on behalf of the nation their grandfathers had fought against.
It was as if the same Federal government once led by Abraham Lincoln had spent decades building up the South, with roads, bridges, dams, levees, military bases and a never-ending stream of government contracts and other pork flowing to the states and districts of powerful Southern congressmen.
Back then, you'd see a thousand American flags before you'd run across a Confederate flag anywhere.
Created on Sunday, 05 July 2015 09:30
Written by Finian Cunningham
Greece's Downfall and Redemption
by
Finian Cunningham
-
Sputnik
D
ecades of exorbitant military spending account for Greece's present downfall under an Olympian-sized debt. European governments and news media portray the problem of Greece's financial woes as public spending profligacy.
Incompetent ECB Policies Brought Greece to Its Knees – French Media
The truth is that Greece's debt mountain has been incurred from years of wasteful military splurging. That is the tragic downfall of the country, which European creditor governments and the mainstream news media tellingly ignore.
But in this understanding of Greece's modern tragedy, there is hope for democratic renewal and redemption. Because that realisation permits a radically different option to restore Greece's economy in a way that is rational and achievable, without piling up more debt and misery for the population.
Instead of more austerity imposed on workers and pensioners, the solution is for Greece to embark on a massive disarmament programme to overturn decades of reckless militarism.
Created on Sunday, 05 July 2015 09:06
Written by Mike Whitney
The Pentagon's "2015 Strategy" For Ruling the World
by
Mike Whitney
-
Counterpunch
O
n Wednesday, the Pentagon released its
2015 National Military Strategy
, a 24-page blueprint for ruling the world through military force. While the language in the report is subtler and less incendiary than similar documents in the past, the determination to unilaterally pursue US interests through extreme violence remains the cornerstone of the new strategy.
Readers will not find even a hint of remorse in the NMS for the vast destruction and loss of life the US caused in countries that posed not the slightest threat to US national security.
Instead, the report reflects the steely resolve of its authors and elite constituents to continue the carnage and bloodletting until all potential rivals have been killed or eliminated and until such time that Washington feels confident that its control over the levers of global power cannot be challenged.
Created on Friday, 03 July 2015 03:23
Written by Dahr Jamail
Sixth Great Mass Extinction Event Begins; 2015 on Pace to Become Hottest Year on Record
by
Dahr Jamail
-
Truthout
A
t the end of May, a few friends and I opted to climb a couple of the larger volcanoes in Washington State. We started on Mount Adams, a 12,280-foot peak in the southern part of the state.
We were able to drive to the Cold Springs Campground at 5,600 feet, where the climb would begin. This itself was an anomaly for late May, when the dirt road tended to still be covered with snowpack. But not this year, one in which Washington's Gov. Jay Inslee has already declared a statewide drought emergency, given this year's record-low snowpack.
In fact, we hiked up bare earth until around 7,500 feet before we even had to don our crampons (metal spikes that attach to climbing boots to improve traction), itself another anomaly. During a short visit to the Forest Service ranger station the day before, the ranger had informed us that we were already experiencing mid- to late-August conditions, though it wasn't yet June.
A few days later and much further north on Mount Baker, a 10,781-foot glacial-clad volcano not far from the border of Canada, we experienced the same thing.
Created on Thursday, 02 July 2015 20:46
Written by Murray Dobbin
Meet Canada's Latest Liberal Man-Boy
H
ere we go again — the Red Book 3.0. Yet another build-up of Liberal election promises just like the ones we've seen before (though I admit the one about changing the voting system might be hard to dodge).
The most infamous, of course, was Jean Chretien's, which he held high and waved at every opportunity in the 1993 election. Co-authored by Paul Martin, it promised the world as we would like it: strong communities, enhanced Medicare, equality, increased funding for education, an end to child poverty. You could almost hear the violins playing. But what turned out to be the most remarkable thing about the book of promises was the record number that were ultimately broken: all of them.
The only time you can trust the federal Liberal Party is when they don't have a majority — and even with a minority government they have to dragged kicking and screaming to do anything that does not please Bay Street. This fact needs to be repeated over and over again in the next few months leading up to the election as political amnesia is a dangerous condition to take with you into the voting booth.
Created on Thursday, 02 July 2015 04:46
Written by Press Release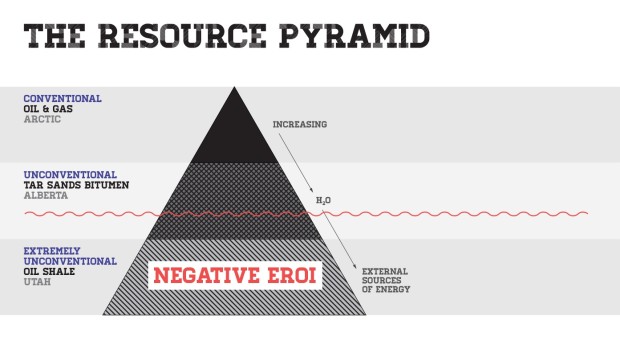 T
o the Ends of the Earthfollows a group of concerned citizens and experts as they bear witness to humanity's descent further down the "resource pyramid."
At the top of the pyramid, energy is easy to find and cheap, and it requires minimal labour and has the highest capital and energy return on investment, as in the case of Saudi oil.
In the middle of the pyramid, resources are more difficult and costly to extract, as in the case of the Alberta tar sands and shale gas:
"Drill, baby, drill" has become "mine, baby, mine,"
"steam, baby, steam," and "frack, baby, frack."

A

t the bottom of the pyramid there are resources such as Utah's oil shale, the economic feasibility of which, despite billions in investments, remains uncertain. After ten years of rather intensive global development, "unconventional resources" now comprise 42% of the planet's energy mix.
Read more: Getting to the Ends of the Earth Doc Made
Created on Wednesday, 01 July 2015 18:24
Written by Chris Floyd
Athens Agonistes: Troika Extremists Write New Greek Tragedy
by
Chris Floyd
-
Empire Burlesque
T
he people of Greece are being driven to their knees by a gang of brutal religious extremists, willing to destroy whole nations for the sake of something that doesn't even exist. Yet the 'civilized' world cheers these barbarians on as they despoil the cradle of Western democracy.
Greece is facing total collapse unless it knuckles under to the draconian demands of the bizarre cultists known as the Troika, a sinister union of three extremist groups (the I.M.F., the European Central Bank and the European Commission) who seek to impose their harsh and rigid way of life across the world. They insist that control of a nation's wealth be given over to a few powerful emirs and the Troika's favored moneylenders in its richer satrapies.
All measures designed to aid the common good and build a decent life for ordinary citizens are ruthlessly suppressed by the Troikaists. Public resources are forcibly sold off -- at knock-down prices -- to foreign interests or local lordlings.
The fact that millions of people are left destitute, living diminished lives in crumbling infrastructure, growing sicker, weaker, more hopeless, even dying from want and neglect -- none of this matters to the ruthless fanatics. All that matters is obedience to their will, and adherence to the Troika's bleak and joyless system for the regulation of life, which its learned theologians call austerity.
Created on Wednesday, 01 July 2015 04:19
Written by Chris Cook
by
C. L. Cook
-
Gorilla-Radio.com
A
nother tide of international activists attempting to shore up in besieged Gaza were intercepted by Israel's navy Monday.
The converted fishing vessel, Marianne, flagged out of Gothenburg, Sweden, was boarded and its crew taken prisoner. Among those taken are two Canadians; indigenous activist Richard Lovelace, and Victorian, Kevin Neish. The pair were still in Israeli custody at the time of this writing, though their colleagues are not entirely certain of the fate of the two intrepids.
Neish was aboard the Mavi Marmara, the Turkish registered passenger liner attacked in 2010 by Israeli commandos; an attack costing the lives of nine.
David Heap
is a Canadian spokesperson for the Freedom Flotilla Coalition's Canada Gaza Boat.
David Heap in the first half.
And; resistance is rife; wherever oppression and dispossession are the order of the day, people will stand up and fight back. In Honduras, June 28th marks the anniversary of a crime against the people; a crime that continues six years later. On that infamous date, a coup ousted the legitimate government of Manuel "Mel" Zelaya, taking power at the barrel of a gun, and taking Honduras back to a time most had hoped would never return. Since 2009, the generalissimos have dashed all democratic and economic reforms made to empower the poorest, while murdering all who would oppose them. But the opposition persists.
Jesse Freeston
is a Canadian documentary filmmaker and videojournalist. A seminal member of the Real News Network, he's now moved into directing documentaries for teleSUR, the world's largest Spanish-language public broadcaster. His latest film is Resistencia: The Fight for the Aguan Valley, is temporarily available for free online viewing in remembrance of the day democracy died in Honduras.
Jesse Freeston and Hasta La Resistencia, Siempre! in the second half.
And; Victoria Street Newz publisher emeritus and CFUV Radio broadcaster,
Janine Bandcroft
will join us from the streets of the city at a demonstration in solidarity with our comrade Kevin Neish at the bottom of the hour. But first, David Heap and the latest on the taking of the Marianne.
Created on Wednesday, 01 July 2015 02:13
Written by Press Release
Dear Friends of SJS; Victoria Friends of Cuba calls for your support
by
Victoria Friends of Cuba/Coalition Against Israeli Apartheid
F
riends, late Sunday, June 28 a f
lotilla of four boats carrying humanitarian aid making their way towards Gaza was illegally stopped when Israeli Naval Forces forced their way onto the leading boat the Marianne of Gothenburg.
12 noon Wednesday, July 1
Government & Belleville, Victoria
(kitty-corner from the Legislature at the Emily Carr statue)
Various reports state that the Marianne seized by Israeli Forces has been towed to the port of Ashdod while the three remaining boats turned back.
At least two Canadians, Kevin Neish from Victoria, who many of us know and Robert Lovelace from the Ardoch Algonquin Nation of Ontario were among 20 others on the Marianne. There has been no contact with the people that were on board of the Marianne. We do not know what their condition is or how they
are being treated.
The boats were in international waters, broke no international laws and were on a humanitarian mission.