Haitian Demonstrations Mark Papa Doc Duvalier Fall Anniversary, Target Baby Doc and Martelly
February 7 Anniversary:
Demonstrations Target Duvalier and Martelly
Political tensions are rapidly risi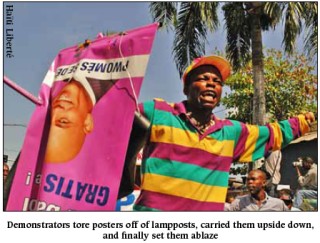 ng in Haiti as showdowns approach over determining if Haiti's President Michel Martelly has broken the law, and if former president Jean-Claude Duvalier, viewed by many as Martelly's political mentor, will get away with flagrantly doing so a quarter century ago.
Hundreds of demonstrators marched through the streets of Port-au-Prince on Feb. 7, the 26th anniversary of the 1986 fall of the 29-year Duvalier dictatorship.
In one rally in front of the Justice Ministry, demonstrators condemned Investigating Judge Jean Carvès's decision on Jan. 30 to waive prosecution of the crimes against humanity – extrajudicial killings, jailings, and torture – committed by "Baby Doc" Duvalier during his reign from 1971 to 1986.
Carvès said he would only pursue the former "President for Life" for embezzling hundreds of millions from the Haitian treasury, a crime which carries a maximum sentence of five years in jail.
"Martelly stop tolerating criminals in the country," read the sign held by one demonstrator. "Duvalier must be judged."
The second demonstration, which many from the first rally attended, marched from the hillside slum of Belair down through the capital to demand that Martelly turn over his passport to a special Senate commission investigating charges that he and 38 other high government officials hold foreign citizenships in violation of the 1987 Haitian constitution. The march, called by a newly formed front called the Patriotic Force for Respect of the Constitution (FOPARK), saw demonstrators climb up lampposts and tear down pink street banners with President Martelly's smiling face proclaiming "In Port-au-Prince, 41,402 children are in school for completely FREE, a promise is a debt." The protesters then carried the posters upside down and finally set them ablaze.
"President Martelly lies to us about providing free education," said Rodrigue Joseph, a taxi driver. "It appears that, around the nation, school masters have not been paid by the government for teaching kids for free, and the National Education Fund that Martelly set up with an illegal tax on international money transfers and phone calls has no money in it. Close to $30 million from it seems to be missing, and that's just going by what the Martelly people say. It might be much more."
"But he's also lying about his citizenship," interrupted Yolande Sénatus, a student. "I think he has a U.S. passport and so ran for president illegally."
"If you don't have double nationality, give your passport!" read one demonstrator's poster. "Hunger tèt kale, poverty tèt kale, unemployment tèt kale, double nationality tèt kale" read another poster, where "tèt kale" – previously a campaign refrain – refers to Martelly's "bald head" and also means "completely."
Demonstrations calling for Martelly to shed light on the charges, particularly from Sen. Moïse Jean Charles, that he is a U.S. citizen (see Haïti Liberté, Vol. 5, No. 26, 01/11/12) were also held in Cap Haïtien on Feb. 6 and in Miragoâne on Feb. 7.
Meanwhile, according the Haitian Press Agency, a pro-Martelly mob attacked a delegation of parliamentarians in the central plateau town of Lascahobas. Sen. Annick Joseph was reportedly hurt in the leg by a thrown rock.
In a combative press conference on Feb. 4 as he was leaving on a state visit to Venezuela and Panama, President Martelly declared that "there is no law, there is nothing that gives anybody or any institution the right to ask the Executive to report on his passport... The passport will stay in the President's pocket."
Martelly also backhanded questions from the press about an allegedly curse-filled confrontation he had with lawmakers meeting at Prime Minister Garry Conille's residence, where he arrived, reportedly without being invited, on the evening of Feb. 1. Martelly denies that anything untoward happened – "three quarters of what you are hearing, it's all is lies" produced by a "laboratory" intent on creating "destabilization," he told the press conference.
But the Senate's president, Simon Dieuseul Desras, issued an open letter to Martelly on Feb. 2 in which he reproached Martelly that "Your vulgar comments, your obscene gestures, your propensity to provocation and scandal do not reflect the image of a life devoted to a noble cause... The grotesque scenes to which you have made us accustomed, including the one last night at the official residence of the Prime Minister, witnessed by many deputies and senators, demonstrates your lack of moral fiber and your inability to be part of this collection of men whom the country should view with reverence and gratitude."
Desras wrote that "Last night, my colleagues and I, after leaving the Prime Minister's house mortified, with our heads full of thoughts... after being covered with insults, without cause or reason, by President Martelly, we felt... this is a clear case of contempt, affecting the honor of... the Haitian Parliament, against which we raise the most vehement protest," and therefore "we ask the President of the Republic to make amends and apologize publicly for having departed from the basic principles of morality, ethics and respect for the dignity of our people and that of the institution we represent."
Meanwhile, the Collective against Impunity, which is comprised of people who have filed suits against Duvalier, announced on Feb. 7 that its members would appeal judge Carvès's decision, which the group's coordinator Danielle Magloire characterized as an "
insult
" and "
a perversion of the foundations of a democracy and a state of law.
"